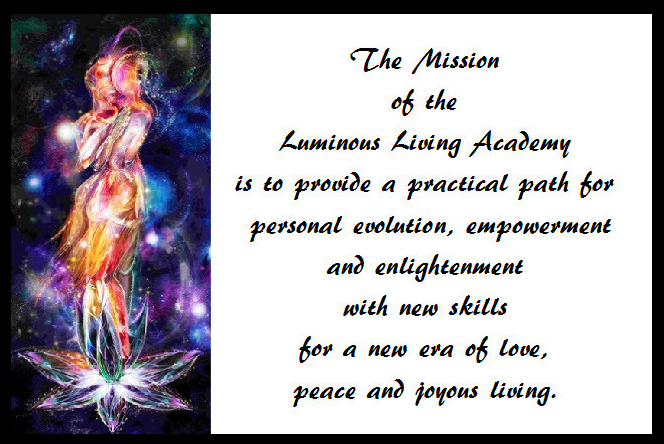 New Skills for a New Era:
New Skills for a New Era of Love, Peace & Joyous Living

New Skills for a New Era of Personal Evolution, Empowerment & Enlightenment
and so much more as we are birthing a new humanity, arriving from the inside-out.
Our programs include:

How to transform limiting beliefs
How to elevate your consciousness & reduce stress
Soul medicine for self care
Self-empowerment
Energy psychology
Epigenetics
Meridian tapping
Also, Digital & Economic Empowerment with the fundamentals to launch your first website and online business.
Life is calling us to be who we were born to be, to bring our dreams to Life, to act on our highest inspirations. To grow, develop, evolve and share the gifts that we were born to contribute to humanity.
Luminous Living is authentic empowerment, self-actualization and
true Self expression, let your light shine and Be Luminous.
We are passionately committed to personal and planetary transformation;
when we change, we change the world.
Our Vision is a world that works for all to THRIVE!
Our signature program: The Art of Luminous Living is A Practical Path to Enlightenment. Discover your inner strength, courage and authentic empowerment to awaken, express your true Self and Be luminous. We are birthing new humanity, arriving from the inside-out.
"Sacred Activism is the fusion of the two
noblest fires of the human heart;
the fire of the mystic's passion for God
with the fire of the activist's passion for justice.
It [sacred activism] embraces all religions and
all spiritual paths to celebrate the essential
Oneness of divine reality and work with the
mother force of love and wisdom in action
to create a healed, just, luminous,
compassionate one-world.
I believe it to be nothing less than the birthing
force of the one divine and so the key, not only
to human survival but to our necessary
evolutionary transformation."
~ Andrew Harvey

The founder of the Luminous Living Academy is Linda Oliver, a Pioneering Consciousness Coach, Sacred Activist and Soul Medicine Specialist. Lin is passionately committed to personal and planetary transformation; when we change, we change the world.
"In 1998 I began a personal quest to find an answer to this question:
If love IS the answer, why is there so much suffering?
At that time two people I love very much were suffering, in excruciating pain but located in two different countries, Canada and England, and I desperately wanted to help them both but felt helpless. After many years of "connecting-the-dots" I published my book, The Universe is a Dream Machine, launched the Luminous Living Academy to share solutions to transform your life and our world.
Yes! Love IS the answer, our world is truly universal love made visible. We do not yet fully understand the world we have been born into, the end of suffering starts with understanding. We are the ones making the choice for love or annihilation, and everything in between with our thoughts, emotions, beliefs, perceptions, attitudes… it's our consciousness, think of it as our human operating system. Every loving thought is a transforming influence on earth and life enhancing, every negative thought is life depleting.

I believe we are here to awaken to the possibilities for personal development; to grow, develop, evolve and in the process share the unique genius, gifts, skills and talents we have been given to make our world better place. What makes You come alive? Share that. If every person has the opportunity to bring their dreams to life, we could transform our world.
All of my life I have been aware of Weltschmerz or world-pain so it was no surprise that when I began my training to become an AFT Practitioner in 2005 I discovered that my highest channel of stress was Grief. The ability to "disconnect" from the Attractor Field of Grief and experience the larger body of work of AFT has transformed my life. Since then I have been on a mission to share AFT with the world." Linda Oliver www.lindaoliver.ca
Lin also has a passion for technology with a broad range of technical skills and over nineteen years' experience as an IT professional in a variety of roles including; web manager, digital strategist and marketing technologist, systems administrator, database administrator, help desk analyst, software trainer and IT project manager.
Lin is also founder of LiNNXX Solutions a digital agency with a difference providing training and services to connect you with the power of technology.

LiNNXX was founded on the principle of building a better world, a world that works for all to THRIVE!

The new economy requires fewer employees and more entrepreneurs, we need a new mindset and new tools for empowerment and transformation to shift from Employee to Entrepreneur. In the 21st Century we have the opportunity to create a life we love to live and I believe it will become the "new normal" to bring your dreams to life. What would it take to bring your dreams to life? The dreams given to you by Life as your highest inspiration.

We are the architects of our future and have the opportunity to design a life we love to live as we build a new era of love, peace and joyous living. The Universe is expanding in us, as us, through us, when we are willing to say "Yes!" to The Universe. The Universe is driven by potential and I believe each person has a unique gift to share, the world is waiting for You. Are You ready?
My Vision: A world where everyone has the opportunity to bring their dreams to life and THRIVE!
Consciousness: Think of your body as a communication device, clothing for your consciousness. Our world is consciousness made visible. Despite what you see, everything is energy, quantum physicists are paving the way for understanding the primacy of consciousness.